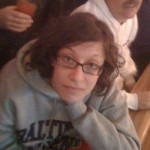 Vague profile of myself:
My name is Anna and I live in Baltimore, Maryland, about an hour north of Washington, DC. I work at a desk doing science stuff. I have a degree in English, concentration in creative writing. I have my Master's in Health Systems Management. I currently manage zero people.
Likes:
Fourth lines, crashing the net, Joe B. and Locker, burritos, dreaming of winter in the summertime, double-fisting alcoholic beverages, David Steckel's hair, Karl Alzner's playoff beard, people who hate Sidney Crosby, agitators
Dislikes:
Whiny centers, divers, sucker punchers, creepy ginger twins, people who cross the road against the light when I'm late for work, moving the 'Yotes to Hamilton, Staals, people who love Sidney Crosby, agitators
Favorite players:
Matt Bradley, Joe Finley, Marc Savard, Mike Knuble, Bryz, Tim Thomas, Nick Lidstrom, PK Subban, Matt Hendricks, Fake Dany Heatley & Fake Henrik Zetterberg
This blog:
I've always loved sports and was drawn to ice hockey in my early teens because of the speed and physical contact. My mom was adamantly against this. I ended up playing field hockey throughout high school, which is not exactly a substitute but is still really, really fun. I was pretty good. Many years later, I helped found Baltimore's first roller derby league: Charm City Roller Girls. I didn't realize at first, but there are so many similarities between roller derby and ice hockey, the least of which is that they are both played on skates. I began to realize that I loved roller derby for the same reason I was initially drawn to hockey, and playing roller derby rekindled my love of the sport.
Throughout this blog, I would like to bring a somewhat different take on the sport. I find myself a bit more interested in the psychology of hockey and, by extension, those who become fans and those who become players.  I feel like there is so much to say about the connection between how the game is played, how the AHL and NHL work, with why people become fans: beer fans, hardcore fans, "puck bunnies," and so on.
Thank you for reading; I hope you enjoy my blog!